our recepies
A Delicate Dance of Flavors: Lianne Scher's Buttermilk Beignets Bursting with Creamy Custard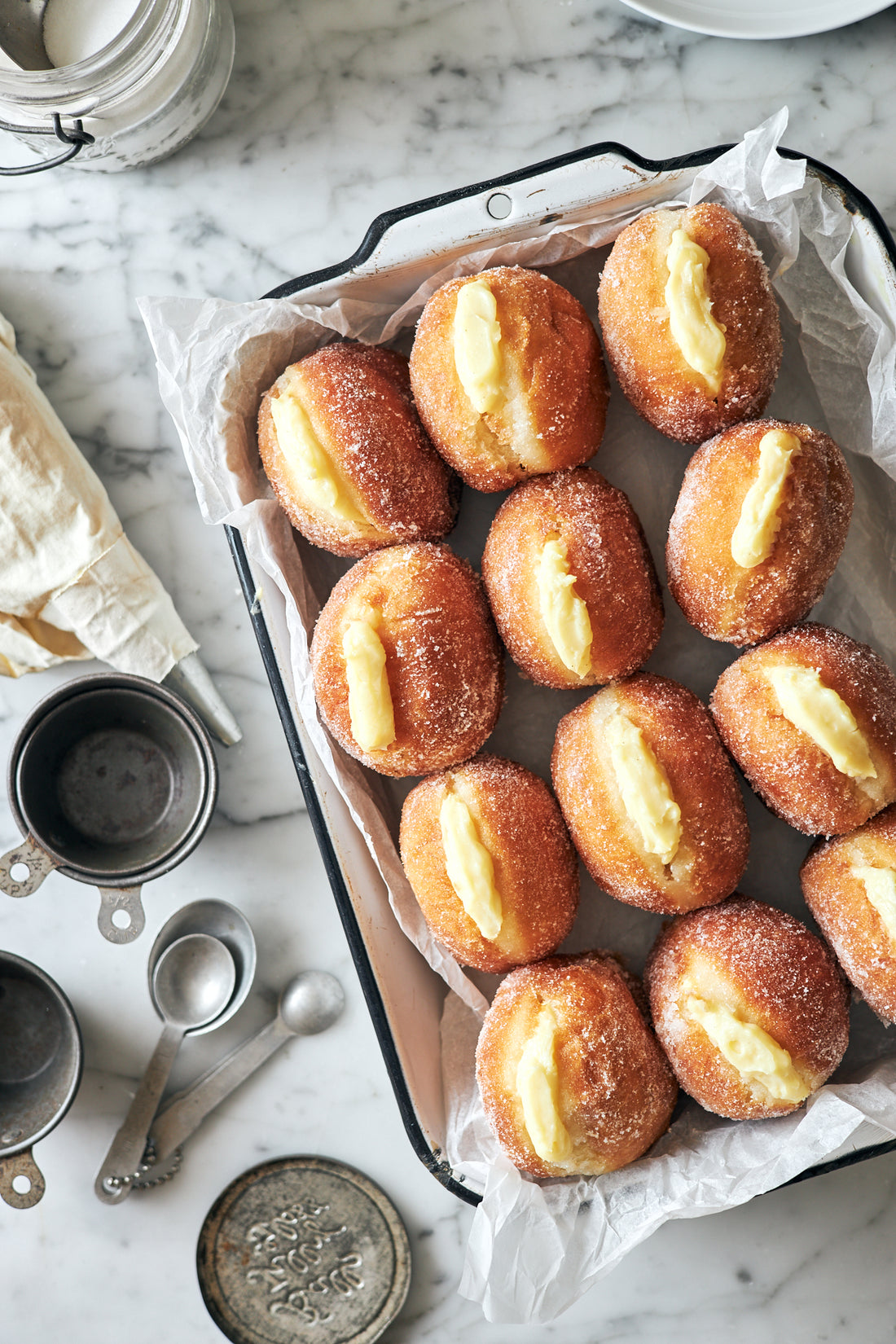 When we envision the perfect doughnut, our senses are inundated with fantasies of soft, airy textures that simply dissolve the moment they touch our tongues, complemented by a burst of creamy goodness that tantalizes the taste buds.
This isn't just any ordinary pastry; it's a symbol of culinary artistry. Welcome to the world of Lianne's Buttermilk Beignets with Custard. This masterpiece captures the essence of what a doughnut should be, expertly walking the tightrope between a feather-light exterior and a core filled with the rich allure of vanilla custard.
THE BEIGNET'S LEGACY AND LINEAGE:
Tracing back to the charming streets of France, beignets have etched themselves as one of the most celebrated members of the pastry family. More than just a treat, these delicacies encapsulate centuries of tradition, love, and gastronomic innovation. Their puffy, golden-brown exteriors and often-sweet interiors have made them synonymous with luxury and indulgence.
Lianne Scher, with her unparalleled culinary finesse showcased in 1701's iconic nougat recipes, delves into the world of beignets with passion and precision. Her rendition pays homage to the classic, while adding her unique twist.

By marrying the tenderness of the buttermilk dough with the silkiness of homemade custard, she's created more than just a pastry; it's a sensorial journey. One bite, and you're transported to a French café, with the aroma of fresh pastries wafting through the air, and the soft hum of a Parisian morning setting the backdrop. The experience is nothing short of magical.
Ingredients
FOR THE PILLOWY BASE:
100ml water & 200ml buttermilk
60g melted butter
1 extra-large egg
460g cake flour
60g sugar
2.5ml salt
7.5ml instant yeast
FOR THE HEART OF CREAMINESS:
500ml full cream milk & 125ml fresh cream
2 extra-large eggs & 4 egg yolks
150g castor sugar
40g cornflour & 25g cake flour
1 vanilla pod
125 ml fresh cream & 100g castor sugar (for that delightful dip)
Method
Dough Delicacy: Begin by merging the wet and dry ingredients to form a dough in an electric mixer. Let it rise, not once but twice, enhancing its fluffiness.
Golden Frying: Once risen, mold the dough into smooth balls and fry them to perfection, ensuring a golden hue.
Creamy Core: As your beignets cool, craft the custard. Heat milk with aromatic vanilla seeds, whisk eggs, combine with warm milk, and let the custard thicken to perfection.
Filling Finale: With your cooled beignets and creamy custard ready, make an incision in each beignet and generously fill with the luscious custard.
Lianne's Tip: For a fruity twist, consider replacing the custard with homemade apricot jam!
Beyond just a recipe, Lianne's Buttermilk Beignets with Custard are a testament to her culinary prowess. If this has whetted your appetite, you're in for a treat! This month, we're sharing four exclusive recipes from Lianne's acclaimed "Kindred Kitchen." And if you purchase a copy in August, a delightful box of nougat awaits you, compliments of 1701.
Dive into the world of cookies, cakes, tarts, and more by ordering your copy here.