our recepies
Double Chocolate Chip Cookies – The Ultimate Treat from Kindred Kitchen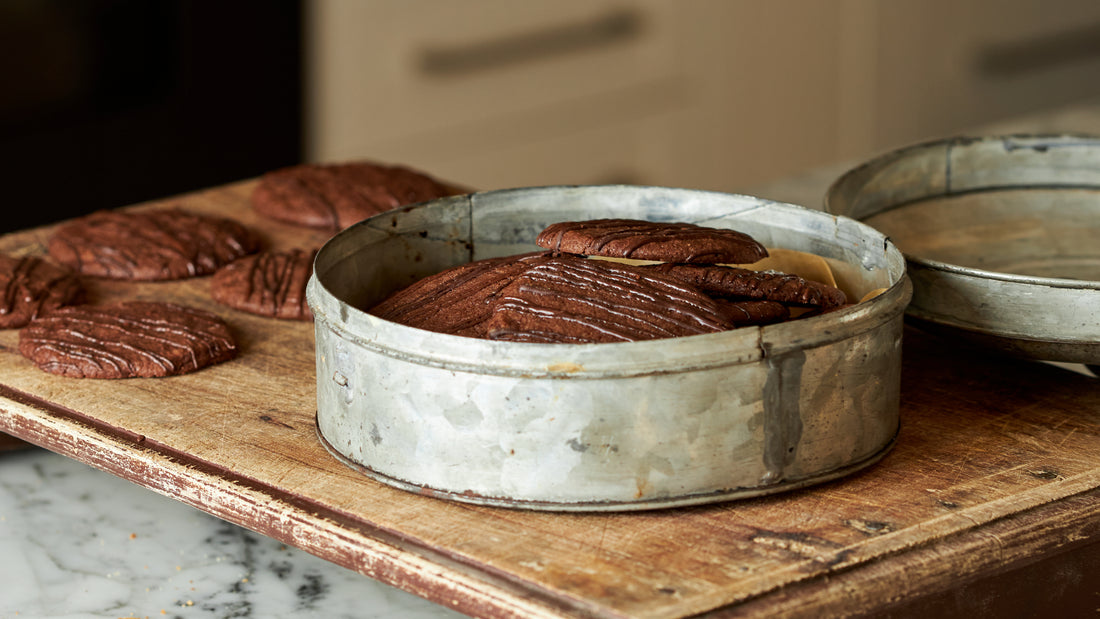 Is there anything better than biting into a warm, freshly-baked cookie? We think not! And when it comes to cookies, double chocolate chip is a classic that never gets old. That's why we're excited to share the third in our series of four exclusive recipes from Kindred Kitchen: Lianne Scher's DOUBLE CHOCOLATE CHIP COOKIES.
In Lianne's words, "These extra chocolatey cookies fly off the kitchen counter faster than I can make them!" With a perfect balance of rich cocoa and sweet chocolate chips, these cookies are a treat that's hard to resist.
Ready to Bake? Here's What You Need
INGREDIENTS
125g butter

125g soft brown sugar

50g white sugar

125g cake flour

25g cocoa powder

1 extra large egg

180g chocolate chips

3.75ml baking powder

5ml vanilla paste

Pinch salt
FOR TOPPING:
INSTRUCTIONS:
Preheat your oven to 180°C. Line a baking tray with non-stick baking paper.

Using an electric mixer, cream together the butter and sugars until they're light and fluffy. Add in the egg and mix until well combined.

Sift together the flour, cocoa powder, salt, and baking powder. Fold these dry ingredients into the butter mixture.

Add the chocolate chips and mix again. Pack down into a bowl, cover, and refrigerate for 30 minutes.

Lightly flour your hands and roll the dough into balls, each weighing about 30g. Gently flatten each cookie as you place them onto the lined baking sheet.

Bake for 12 to 15 minutes. Set aside to cool.

For the topping, melt the chopped dark chocolate in a bowl over gently simmering water. Once melted, dip a fork into the chocolate and drizzle in a zig-zag motion over each cookie. Allow to set.
Lianne's Tip: If you prefer white chocolate, you can replace the dark chocolate drizzle topping with white chocolate instead.
If you're in the mood for baking this weekend, give these delicious cookies a try – trust us, you'll be glad you did! This is just one of many easy yet decadent recipes from Lianne's cookbook, Kindred Kitchen, which you can order from our site here. For each order placed in August, we will add in a complimentary box of nougat – a real sweet deal!
Dive into the world of cookies, cakes, tarts, and more by ordering your copy here.