our recepies
When life gives you lemons…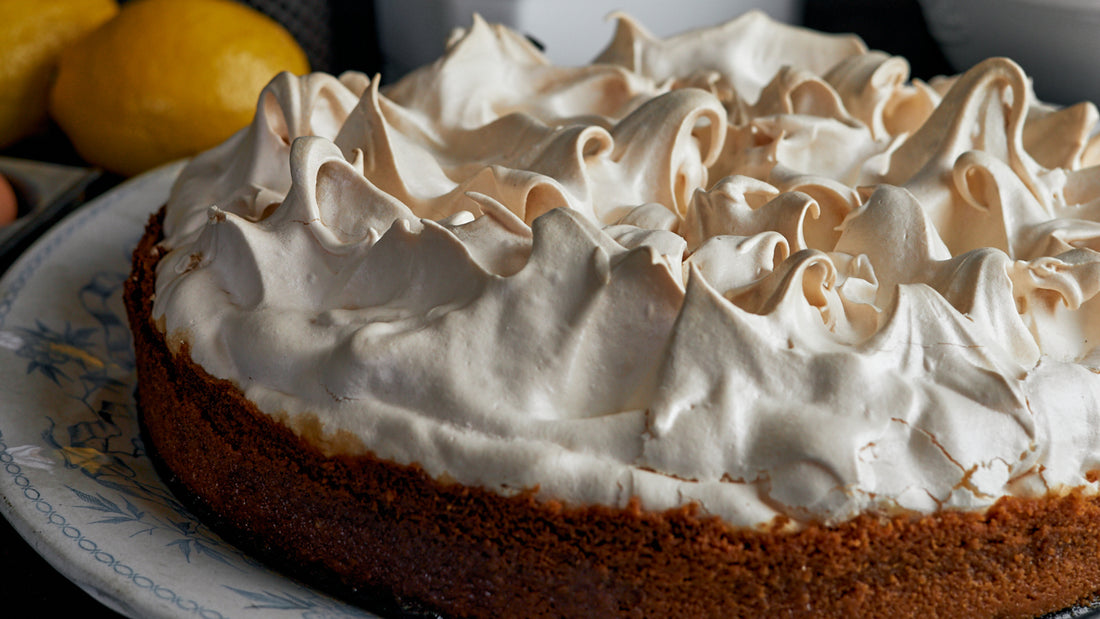 Lianne's Lemon Meringue Pie is more than just a dessert; it's an experience. Diving into layers of zesty lemon, soft peaks of meringue, and a rich biscuit base will transport you to a realm of citrus delight. Hailing from the heart of Lianne's iconic book, Kindred Kitchen, this pie promises to be the talk of the table. 
THE PIE PROSE
In the boundless realm of desserts, there are creations that etch their place in history. And then there are those that transcend, reimagining classics with a dash of the unexpected. Lianne's Lemon Meringue Pie, with its tantalizing base and pillowy meringue, is a testament to such transformative delights. What sets it apart? The foundation is laid by a biscuit base that whispers tales of buttery indulgence. This is seamlessly layered with a lemon filling that's a sublime mix of tartness and creamy richness. But the pièce de résistance is undoubtedly the meringue. Light, airy, and kissed with the perfect sweetness, it crowns the pie like a regal, soft cloud, culminating the experience into an opulent finish. 
INGREDIENTS
BISCUIT BASE:
1 packet tennis or ginger
Biscuits, finely crushed
125g butter, melted
FILLING:
1 tin condensed milk
3 egg yolks
125ml fresh lemon juice
Grated rind of 1 lemon
MERINGUE TOPPING:
3 extra-large egg whites
170g castor sugar
INSTRUCTIONS:
Preheat the oven to 160°C. Grease a 22cm non-stick springform tin lightly.
For the base, use a food processor to finely crush the biscuits. Add the melted butter and mix until all the crumbs are evenly coated. Press this mixture into the base and up the sides of the tin. Let it chill in the fridge for 30 minutes.
For the filling, combine the condensed milk, egg yolks, lemon zest, and juice until well mixed. Pour this over the chilled biscuit base and smooth it out. Refrigerate for another 30 minutes.
For the meringue topping, in a clean mixing bowl, beat the egg whites until they form stiff peaks. Gradually add the castor sugar, one tablespoon at a time, mixing well after each addition until the meringue is firm. Ensure there's no trace of egg yolk in the mixture.
As our culinary journey draws to a close, we save the best for last: Lianne's Lemon Meringue Pie, an epitome of zest and sweetness. Over the past weeks, we've delved into the rich flavors of Kindred Kitchen, from the comforting embrace of the Buttermilk Beignets with Custard to the indulgent layers of the White Chocolate Poppy Seed Cake. This pie is a culmination, representing the harmony of tastes we've explored. Order Kindred Kitchen in August, and to commemorate our journey together, 1701 offers a complimentary box of nougat. It's the final touch to your baking escapades. Savor the essence of each recipe, and let every bite remind you of our shared culinary adventure.
Dive into the world of cookies, cakes, tarts, and more by ordering your copy here.