our recepies
Decadence Layered in White Chocolate: Lianne's Signature Poppy Seed Cake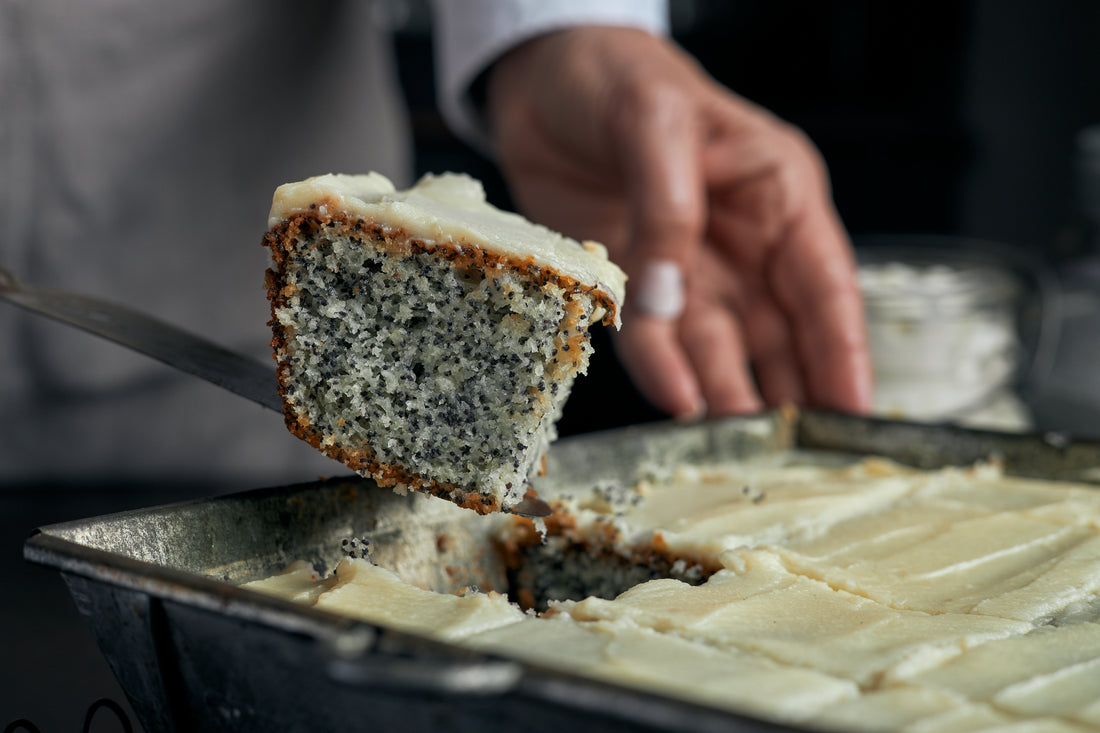 Indulgence has a new name, and it's White Chocolate Poppy Seed Cake. A dessert that effortlessly bridges the worlds of crunch, sweetness, and velvety white chocolate – all attributes that describe Lianne Scher's creations to a T. This is the kind of cake that makes you pause with every bite, savoring its intricate layers of flavor and texture.
THE CAKE CHRONICLES:
In the vast universe of baking, certain recipes stand out, becoming instant classics. And then there are those that redefine classics, adding a twist that leaves an unforgettable mark on your palate. Lianne's White Chocolate Poppy Seed Cake, with its lush base and velvety icing, fits snugly into the latter category.
What sets it apart? For starters, the crunch of poppy seeds melds seamlessly with the coconut's tropical notes. Add to that the subtle undertones of yogurt, and you have a cake that's moist, airy, and will make you want more than just one piece. But it's the white chocolate icing that truly elevates this dessert. Silky, rich, and oh-so-creamy, it wraps the cake in a blanket of sweet sophistication. 
INGREDIENTS
CAKE ASSEMBLY:
Preheat your haven (oven) to a cozy 180°C.
Choose your baking vessel, preferably a 20cm x 25cm x 5cm deep ceramic or tin dish, and coat it with a gentle layer of grease.
Summon your inner baker and whisk together eggs, sugar, and oil until you get a blend that's light and aerated.
Now, it's time for the poppy seeds, coconut, self-raising flour, and yoghurt to join the party. Stir them in gently, ensuring you keep the batter's integrity intact.
Once your mix reaches a harmonious consistency, pour it into your prepared dish and let it bake for about 45 minutes. The cake's readiness can be tested with a simple cake tester - if it emerges clean, your cake is good to go!
Let it cool, showing patience that's hard but essential. 
ICING INSTRUCTIONS:
Begin by melting the white chocolate. A gentle simmering water bath does the trick, ensuring your chocolate melts without losing its character.
Swiftly add the sifted icing sugar, milk, butter, and the aromatic vanilla paste into the molten chocolate, whisking away to a smooth fusion.
Pour this lustrous mixture over the cake, gently spreading it to ensure every inch is covered in white chocolate glory.
Lianne's Insider Tip: Doubling the recipe gives you a majestic family-sized cake. Remember to adjust the pan size!
In case you missed it last week, we showcased another of Lianne's specialties: the Buttermilk Beignets with Custard. This week, it's all about the White Chocolate Poppy Seed Cake. Dive deep into this delicacy and others by grabbing a copy of Kindred Kitchen. Order in August, and in the true 1701 spirit of giving, we'll surprise you with a complimentary box of nougat. A perfect pairing for your baking adventures. Dive into the recipe and relish every bite of this creation.
Dive into the world of cookies, cakes, tarts, and more by ordering your copy here.